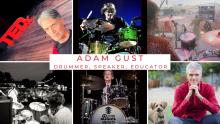 Other Discipline/Category
:
Organization/Affiliation (no abbreviation)
:
Short biography and a description of your interest(s) in music and health
:
Meet Adam Gust, the world's first Polyvagal-Informed professional drummer. Using his performance experience and knowledge of nervous system science, Adam has created the Somatic Drummer - a unique combination of science, wellness, and drumming. Adam's 'Science of the Groove' was the first talk about the Vagus Nerve to appear on TED.com, exploring how drummers sync their brains and bodies to find their 'groove,' a feedback loop between intention and action. Conducting workshops at top institutions like USC and Musicians Institute, Adam teaches how resourcing our nervous system optimizes wellness and musical performance. Adam offers mentorship and workshops for The Play Zone, a neurophysiological approach to high-performance on any stage, which he applies to his own teaching, learning, and professional life.
Raising awareness and researching nervous system regulation benefitting wellness and music performance. Applying Polyvagal Theory, Somatic Experiencing, and ACEs research to trauma-informed music education. TRAUMA as- Teaching Resilience And Understanding Mindful Awareness.
drums, drumming, vagus nerve, embodiment, nervous system regulation, polyvagal theory, somatic experiencing