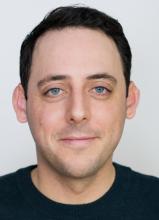 Researcher
Musician/artist
Short biography and a description of your interest(s) in music and health
:
Proud member of Actor's Equity, SAG-AFTRA, and National Players Tour 60. Film credits include "Late Night," "The Wolf of Wall Street," and "Delivery Man." Acted at regional theaters such as Arena Stage, Studio Theatre and Olney Theatre Center and directed the D.C. premiere of Sarah Kane's "Crave."
Wrote "You Only Have One Life," to be published in "Teaching Artist Journal" in December 2022, about the strategies and outcomes of a five-week storytelling residency facilitated for six caregivers that utilized storytelling as a processing tool to cope with the demanding stress of caregiving. Upon publication of the memoir "Room for Grace," was the featured guest speaker at CaringKind Brooklyn Alzheimer's Walk 2019. Currently working on "Branching Out," a new arts-based interview theater project focused on the bittersweet emotions of becoming a parent after the death of a parent. Holds a MA in Educational Theatre from NYU and a BA in Theater from George Washington University.

My father was diagnosed with Frontotemporal Lobe Dementia on Valentine's Day 2013 and, until his death in 2017, there were a great number of days Bob Dylan provided the common ground for all my interactions as we reminisced. In the summer of 2016, he fell down the stairs, resulting in his incomplete spinal cord injury and spent the last six months of his life bedridden, counting on nurses and family for all activities of daily living. It was Dylan's albums "Blonde on Blonde" and "New Morning" that gave us hours of familiar recognition, redirection and joy.

In May of 2022, wanting to further explore the powerful link between music and memory, I created "A Window at the Moment," an arts-based research theater project focused on the quality of life benefits music might offer people living with dementia. The purpose of "A Window at the Moment" is to not only understand music's effects on emotion, behavior, and cognition in people living with dementia but to promote communication and connection even when/if verbal communication has become difficult.

I created a ten-question interview protocol in order to see what are the experiences of caregivers and healthcare professionals using music as a treatment for the improvement of cognitive function in people living with dementia. I interviewed 22 participants attempting to reimagine, redesign and reform long term care - people living with dementia, caregivers, music and occupational therapists, geriatricians, culture change specialists, professors and pharmaceutical researchers. I consider ethnodrama an impactful tool that reveals voices in the act of discovery and the script for "A Window at the Moment" was created verbatim, word for word, from eight of those interviews.

I am looking to get "A Window at the Moment" up on its feet in the form of a table read or fully realized staged play, hear about health conferences for music and memory, opportunities for funding, and share my qualitative research in the form of a theatrical script.

Through ethnodrama, an audience can experience the actions and emotions of others to generate genuine empathy and understanding. As an 85-minute theater experience (including 20 minutes of talkback with the audience), it is my hope that as a piece of theater "A Window at the Moment" inspires a forward-looking view on the capacity of our systems to not only manage the pain and agitation of people living with dementia but help them reclaim their humanity - while also reducing the stigma of many others.

dementia, theatre, memory, funding, conference, ethnodrama, verbatim theatre, interview based theatre, documentary theatre, music therapy, cognition, qualitative, ethnography, older adults, conferences, funding, music and memory